Black Friday Deals
Our deals are actually running from Tuesday 26th November – Saturday 7th December. Grab yourself a bargain!
10 % Off all Dermalogica and Decleor stock
20 % Off all Dermalogica and Decleor Christmas gift sets and skin sets
Christmas Gift Ideas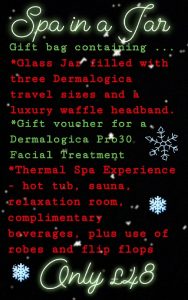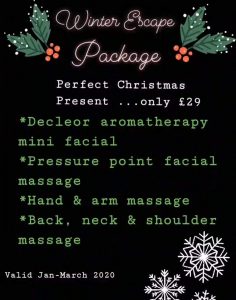 12 Days of Christmas Offer
Spa'rkle this December with our 12 days of Christmas promotion. Available between Wed 4th – Sat 28th December with Nikki Roberts . Whether you want glowing party skin or need to soothe tired legs from all that Christmas shopping, we have the perfect selection of therapies for you.
Dermalogica ProPower peel 30 Facial – save £10 now £30
Decleor Ultimate Vitamin Glow Facial- save £10 now £35
Decleor Aromatherapy/ Deep Tissue Back Massage – save £8 now £20
Bamboo Full Body Massage- save £13 now £35
Decleor Tranquility Scalp Massage – save £10 now £20
Festive Candied Orange Salt & Oil Scrub – save £8 now £22
Express Lashes – save £5 now £20