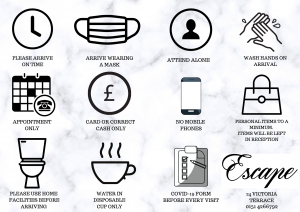 We are currently following beauty Industry and government guidelines on how to keep staff and clients as safe as possible. We have put together the above quick guide to highlight some of the new practices we are putting in place.  Below is a more in depth look at these new protocols…..
Arriving on time – each therapist is starting their working day at slightly different times to ensure staff, and then in turn their clients, are not all arriving at the same time to the salon. For this to work it is important to arrive on time – not early or late. If you arrive early you may have to wait outside as we have had to remove our waiting area. If you are late we will not be able to perform your treatment as we cannot run late and keep the next client waiting outside past their start time.  Please only book times you can comfortably make – especially if coming to us straight from work, as we do not want to turn anyone away and the appointment will still be charged in full.
 Clients will be required to arrive with their own mask and it will have to be worn for the duration of your visit for most of our services. More details will follow once we are updated on which treatments can be offered and guidelines are updated. Staff will be wearing a face shield for all services and both a shield and a mask for some services.
 We are asking all clients to arrive alone, no children or friends to accompany you.
 We have a hand wash station set up in reception to allow clients to wash and sanitise their hands on arrival.
 We will be operating an appointment only system, not only for treatments, but also purchasing products and gift vouchers. Please do not visit the salon to make appointments or purchases – you must call us to order your items and we will have your order ready for an arranged pick up time. You can also pay over the phone when ordering, if you prefer.  Online booking is disabled until we are certain our new booking system is working and we are confident that we can reopen it. Bookings will be taken by phone only initially. We will not be able to book future appointments for you at the end of your service as this will cause congestion in reception,
 We will be offering contactless card payments and over the phone prepayments. We will still accept cash, but ask you to bring the correct amount to minimise handling change. We can inform you of your bill on the phone during the booking process.
 Once you have sanitised your hands in reception you won't be able to handle your mobile phone as this would require you to sanitise your hands again.
 Guidelines state that clients should arrive without bags or coats. If you do attend with a bag or coat you will be required to hang up your own coat/bag on the coat stand in reception. You will not be able to take it through with you to the treatment rooms. Please be do not bring valuables as they are left at your own risk. Prepayment is available over the phone so you do not need to bring a purse. We will be taking your bill on arrival, so if you want to pay with cash you can bring it in an envelope and hand this in on arrival.
 We are not closing our toilet facilities to customers but please ask you to only use them if absolutely necessary.
 We have been advised to not serve beverages apart from water in disposable cups. Once these restrictions have been lifted we will have a wide range of drink options available as we have upgraded our refreshment stations during lockdown, and now also have a premise license to serve alcohol.
 We will be sending you a Covid-19 Consultation form by email before your appointment. We must have this returned to us at least 24 hours (but no more than 48hrs) before every appointment. Your details are also saved for 'track and trace' purposes. If we do not receive your completed form on time we will have to cancel your booking. If you do not receive email this can be done by phone the day before your appointment.
We will also be asking nail clients to pre-select their colour choice and inform us on booking. We are now only using two nail desks in the area where the colours are stored so you may not be able to see the colour racks on your visit. To reduce the touching of bottles, which have to be sanitised after each use, we will not be able to bring lots of bottles to you for choice. You could visit the gel bottle website to view videos of shades. We stock the majority of the Gel Bottle shades.
To comply with social distancing we have temporarily relocated two nail desks into one of our new upstairs therapy rooms. If you have any mobility issues and need to use a downstairs nail desk then please inform us on booking.
We are working to a new schedule and we will not be able to guarantee extras – nail repairs, nail art etc. You must phone and book any additional work.
Due to not having a waiting area we are removing normal nall varnish services from our menu, we won't be able to accomodate clients waiting to dry. If you are booking hands and feet it may be possible to perform a normal varnish pedicure as your toes can dry whilst your nails are being done.
We have had to review some of our pricing due to Covid-19 compliance, we are now experiencing higher costs and not able to take as many bookings as previously . You can view all of our current pricing on our website.